Things to do in Kew Bridge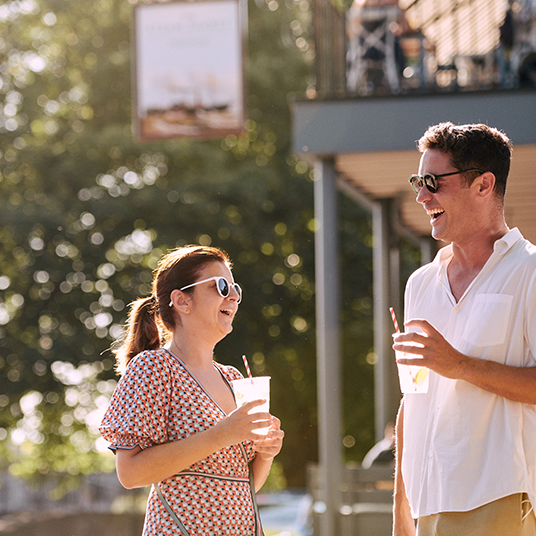 Seeing as Apo recently opened in Kew, we have been exploring the area to recommend things to do.  Kew Bridge is connected to several nice neighbourhoods meaning that you can never really run out of things to do in Kew. 
Let's take a look at a handful of our favourite things that we have found for you to enjoy so far.
To Drink: The Steam Packet
85 Strand-on-the-Green, W4 3PU
Parched?  Having stumbled across The Steam Packet, all in the name of research, we can recommend this high-end boozer for a drink or two.
Think polished pub-food and craft-ales on tap.  It's everything you could want from a classic English pub, but notably nicer.
Sun-downers by The River Thames, anyone?  See you there...
To Eat: Annies Restaurant 
162 Thames Rd, W4 3QS
From light-bites to hearty meals, and renowned for a cocktail or two, Annies has a seriously special atmosphere.
Tucked away by the river, with outdoor seating spilling out onto the street, you feel like you could be anywhere.
To Stroll: River Brent
You never know where I stroll along the river brent might take you.  Enchanged Woodlands, Syon House, Rye by the Water, and The Wier Bar are just a few of South London's most beautiful things to do within a half an hour walk of Apo Kew Bridge. 
To Watch: Brentford FC
There's more than one way to watch Brentford FC play when you live at Apo Kew Bridge.  With multiple fixtures hosted at the stadium residents can go the traditional route and get tickets, or they can enjoy a game from the roof terrace.  Some lucky residents can even enjoy the games from the comfort of their own bed, balcony or living room.
There are plenty more things to do in Kew Bridge.  Keep an eye on our social media for more.