The smart way to rent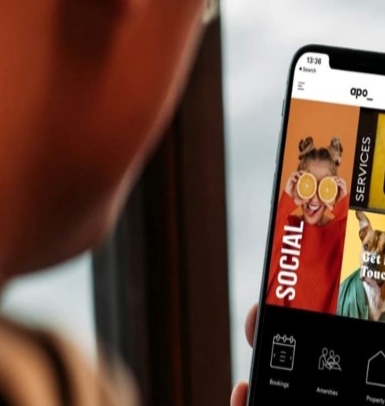 Modern Living, Made Simple
Apo's flexible membership model offers renters hassle-free living through its user-friendly app, advanced lettings software and thriving resident social media communities.
Apo, the innovative London-based build-to-rent operator, is offering renters across the capital a new era of flexible living, through bespoke digital solutions shaped by modern lifestyles. Through its user-friendly resident app, efficient tenancy management software and engaging networking groups and social channels, Apo is fast becoming London's most appealing option for city renting, offering fun, customisable living options at the touch of a button.
Apo Barking, the operator's first scheme, launched in December 2020 and recently celebrated reaching full occupation in April 2022, having flourished into an established community with its 597 thoughtfully-designed one and two bed apartments. The second scheme, Apo Kew Bridge, launched in November 2021, and has since welcomed the first residents to its 487 new homes, wrapped around the premier league stadium home to Brentford FC. Apo utilises bespoke digital solutions to simplify the stresses of everyday life for its members and foster new connections between neighbours.
The Apo resident app is a one-stop shop for neighbourhood news, maintenance queries, exclusive local discounts, and social interaction, as well as being an event booking platform for Apo's rolling programme of resident activities including yoga classes, live music events, food markets and engaging workshops.
Taking the stress out of renting, the app allows members to perform actions such as contact the on-site team, log expected courier deliveries, receive announcements about upcoming events, and forge new social connections, such as book clubs and running groups. The What's around me feature showcases local businesses surrounding the development, many of which offer exclusive promotions and discounts to Apo residents, reinforcing Apo's place within its wider community.
As well as the app, a blossoming Instagram platform showcases the development's amenities, activities and four-legged friends. Apo also manages private social media groups for residents, further strengthening relationships between new neighbours by encouraging new conversations and interactions. Providing a safe space for residents to make friends, share hobbies and co-ordinate their own activities, Apo's digital platforms help build the authentic sense of community that is attracting record-breaking tenant applications to its developments.
For any press enquiries please contact: Jasmine Davis / Harry Anderson / Harry Livingstone at The Communication Group plc on 020 7630 1411 or email apo@thecommunicationgroup.co.uk