In East and West London, Apo offers stunning rooftop views.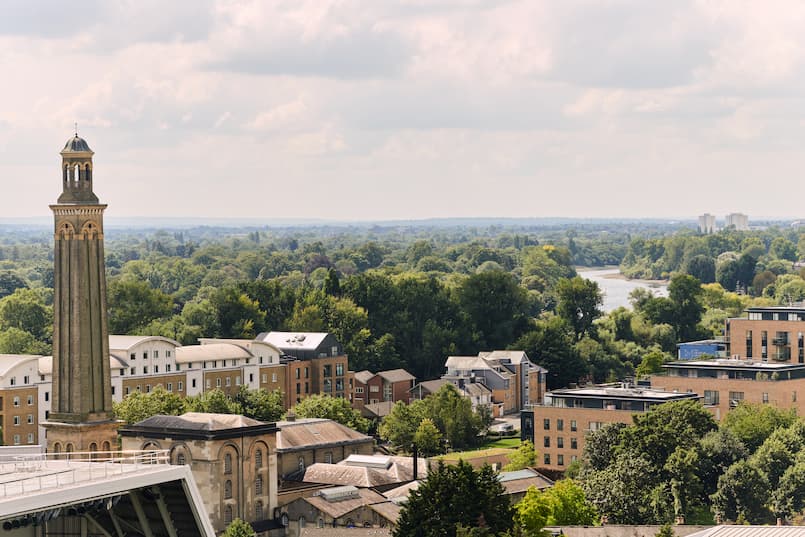 Resident roof terraces at developments in Barking and Kew Bridge offer event spaces with stunning views of the capital
There are few better ways to enjoy London than by soaking up a panoramic view of its skyline. From a rooftop vantage point, the extraordinary diversity of the capital's architecture, peppered with iconic landmarks, historic buildings and towering cranes symbolising the everchanging city landscape can be observed. And, as there's no better place to enjoy a stunning skyline view than right on your doorstep, Apo (a-part-of.com), the innovative build-to-rent operator, is offering London renters new homes with access to a collection of spacious roof terraces with breathtaking views across the capital.
More than just viewing platforms or token outside spaces, the roof terraces at Apo's new rental developments in Barking and Kew Bridge are fully-equipped communal facilities, built to host a varied programme of group activities and social events. Accessible to all residents, each generously-sized terrace is decked and furnished with planters, outside tables and a range of seating options for both large gatherings and moments of peaceful alone-time.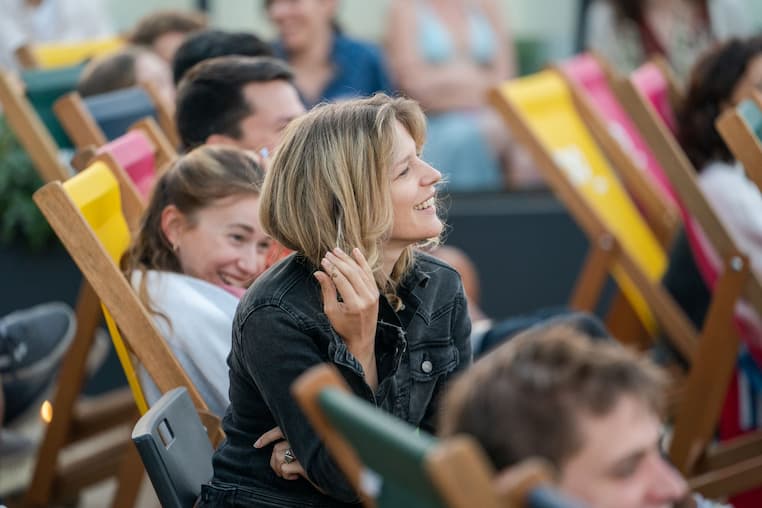 On the 7th floor of Apo Barking lies The Terrace, the latest addition to the development's range of on-site resident amenities. A vast outdoor space with green areas for children's play, bar stools and tables for cocktail hour, and adjacent access to a communal kitchen area, The Terrace is the perfect venue for summer parties and weekend fun. Residents can enjoy long-ranging vistas stretching across East London, and there's even a built-in kitchen unit, sink and storage perfect for alfresco activities.
In May 2022, Apo Barking celebrated the official launch of The Terrace, with residents gathering for an evening of barbecue food, drinks from a pop-up bar, and live DJ sets while the sun set. With a capacity of 200 people, The Terrace will play host to many more exciting events designed to further connect the Apo Barking community.
Meanwhile in West London, each of the four large rooftop terraces at Apo Kew Bridge are perched above the 17,250-seater Brentford Community Stadium, home of Brentford F.C and rugby union's London Irish. From August, the ground will welcome a second season of high-drama Premier League football, with residents able to enjoy a bird's-eye view of the matchday excitement from the terraces above. Also visible from the Kew Bridge terraces are stunning long-distance views of the River Thames and the local green spaces at Kew Gardens and Gunnersbury Park, affording residents a tranquil physical and mental space to connect with the city's natural environment.
In June, Apo Kew Bridge hosted a pop-up live music gig in partnership with Sofar Sounds. Welcoming around 65 guests to their East-facing roof terrace, Apo hosted an intimate outdoor gig amplified by the spectacular background of sparkling city lights at night, and is swiftly establishing itself as not only a new residential destination, but also one of London's most active and creative event hubs.
Terrace spaces are just one of the amenities at Apo Barking and Apo Kew Bridge, designed to bring communities together. Additional amenities across both sites include The Local, a members' space designed for both co-working and no-working, complete with meeting areas, group tables, office pods, cosy seating and room to relax, as well as The Studio and The Gym, state-of-the-art wellness facilities.
Matt Finch, Director at Apo, comments: "At Apo, we are committed to delivering a rental experience that showcases the very best aspects of living in London. The terraces at Apo Barking and Apo Kew Bridge not only offer residents a visual connection to their city, but they have been specifically designed to facilitate social activities, and accommodate the sense of community spirit that, for many, is the greatest attraction of city life.''
For any press enquiries please contact: Jasmine Davis / Harry Anderson / Harry Livingstone at The Communication Group plc on 020 7630 1411 or email apo@thecommunicationgroup.co.uk